Across the region I am responsible for, the Middle East, different countries and organizations are at different steps of the automation journey—and we see this the world over. And, despite the growing use of digital payments, cash will remain an important payment method; we're seeing an increase in cash deposits nearly across the board, laying the foundation for a business case for cash recycling.
New research from RBR backs up these trends: The organization found that the number of automated deposit machines, especially recyclers,
is projected to grow.
One reason for this growth is the pressure FIs are under to make their operations as efficient as possible. The biggest lever for reducing cash management costs is the automation of cash deposits.
Why is it more important than ever to make the switch to a truly automated cash journey?
Implementing self-service options and migrating transactions from teller to self-service is an important first step in automating processes. But to truly maximize your ROI, you've got to take a fresh approach to the entire cash process. In a cash recycling scenario, your own consumers are replenishing your ATMs for free.
The advantages of this service are multilayered, benefitting key areas of your cash management strategy:
Operational Efficiency & TCO
Cash recycling is a huge enabler to achieve new operational efficiencies. It reduces cash replenishment, cash movement and CIT stops, decreasing the number of out-of-service events and the accompanying frustration caused by the need for sweeps or replenishments of the ATM.
With DN Series™ Recycling ATMs, you can lower your TCO by ~41-50% through fewer CIT stops, reduction of on-site intervention time and less cash moving through the branch.
Continuity & Availability
Convenient access to cash is critical to consumers and the primary reason people use ATMs. How many hours is your ATM fleet out of service because of cash handling required during CIT visits? In a recent
Retail Banking Consumer and Technology Survey from Nielsen IQ commissioned by Diebold Nixdorf
, "ATM out of operation" was the No.1 frustration financial service consumers reported over a timeframe of twelve months.. Self-service cash recycling makes your services available to consumers even when your branch is closed, so you're improving your consumers' self-service experiences and at the same time improving conditions for your employees. Implementing process-automation via self-service cash recycling systems that can securely and accurately accept, store and recirculate cash can mean fewer resources devoted to ATM cash supply, higher availability and better services.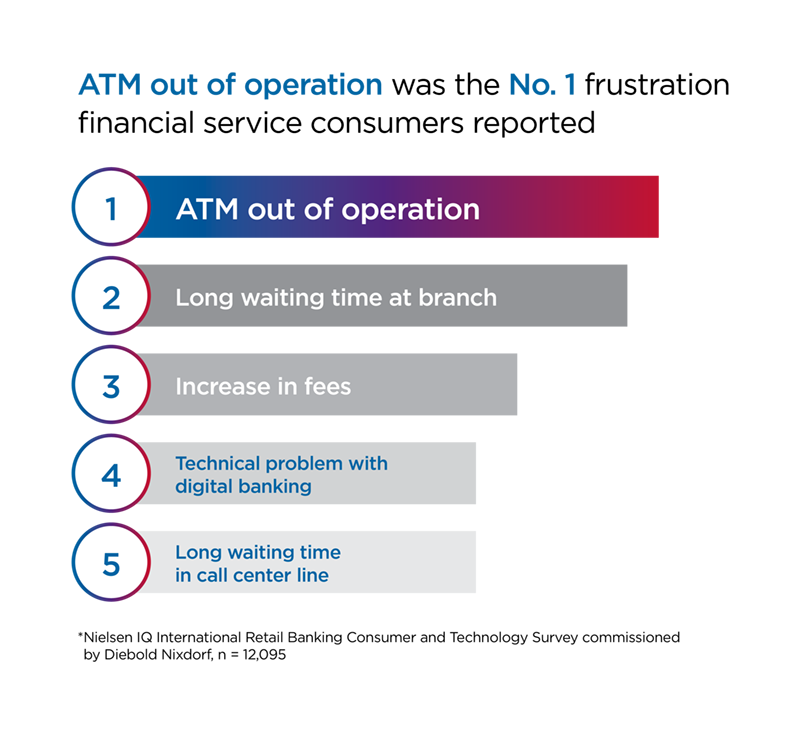 Flexibility & Speed
The self-service channel is becoming more important, due to increasing consumer demand, the desire for social distancing and the need to optimize operational efficiency. Automating the cash journey wherever possible becomes absolutely critical. This is where smart self-service cash recycling solutions can help: Cash recycling allows your consumers to deposit cash when it is convenient for them, regardless of your branch's operating hours. Migrating more transactions to the self-service channel helps consumers avoid long lines at the teller.
Cash recycling offers an especially exciting new opportunity for your small- and medium-business (SMB) clients. They can deposit larger bundles more easily through self-service, simultaneously providing cash that can be immediately recirculated through the ATM to use for cash-out transactions. In most cases, SMBs account for about 70% of all cash-in transactions within the branch and require physical activity, for both the SMB and the FI. The more the SMB segment is migrated to self-service, the more it helps reduce cash-related costs by creating a closed-loop recycling environment that automatically moves money through the system.
Are you taking full advantage of cost optimization capabilities within your self-service fleet?
Cash-recycling technology, previously perceived by many FIs to be too expensive or complex to implement, is proving to be a viable option for banks around the world. Recycling ATMs have been shown to reduce CIT costs and many banks now rank recycling as a basic functional requirement when selecting new deposit terminals. Even with a ratio of 70:30 of deposits to withdrawals (and vice-versa 30:70) cash recycling can be a useful tool for a branch to improve operational efficiency.
Whatever your next step is on the cash automation journey, you can rely on Diebold Nixdorf's future-ready ATMs. With 20 years of experience in designing cash recycling technology, DN Series recycling ATMs are designed to meet today's needs and tomorrow's vision.
Whether you've been using cash recycling for some time and have already seen the benefits and want to know more, or you haven't yet taken the necessary steps to benefit from it, check out our latest
regional guide
with real-world examples that explore how you can take full advantage of cost optimization capabilities within your self-service fleet.