My parents are in their 80s. My father carries around a wallet with no fewer than 30 credit cards, including at least five gas station cards, even though he hasn't driven a car in years. My mother's idea of self-service banking is sending my sister to the local credit union to deposit cash into her account for Christmas gifts. To sum it up, their banking habits have been a bit antiquated.
Flash forward to May 2020, when my mom called in a panic: "Do you know where my ATM card is? I can't find my card, and your father needs $40!" Pre-COVID, I would have been convinced someone kidnapped my parents and was using their card to pay ransom. But in today's world, this call is not that odd.
In my opinion, the banking world has done a pretty good job of pivoting, using a combination of creativity and innovation to keep financial services going throughout the COVID-19 crisis. This is due strongly in part to financial institutions (FIs) working diligently to promote their self-service options and work with customers to get them to use channels outside of their comfort zones.
Recent research Diebold Nixdorf conducted with our partner Forrester has revealed encouraging signs that the pandemic may have helped convert previously branch-dependent consumers to users of self-service channels.
The Numbers Speak for Themselves
The first sign of this shift is the significant increase in the use of digital channels compared to a year ago. Of the 5,000-plus consumers surveyed, 27% stated their use of mobile banking increased, and 24% said they increased their web banking usage. Meanwhile, teller usage is down for 35% of respondents. The chart below suggests young consumers seem to be driving this shift, but it's worth noting even the oldest consumer segment had a 15% and 16% mobile and web usage increase, respectively.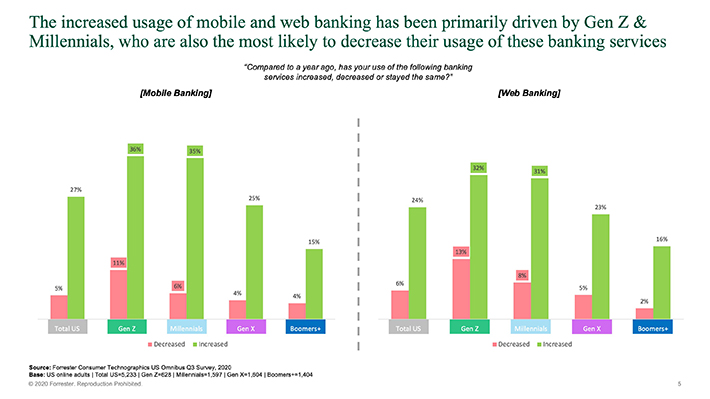 Of course, most of this was out of necessity: Branch lobbies were closed, yet consumers still needed to make deposits and complete other transactions. But what is interesting is how consumers chose a channel for the first time. When asked what transactions or interactions consumers completed for the first time, data suggest the pandemic has nudged consumers who were on the sidelines to use more self-service options.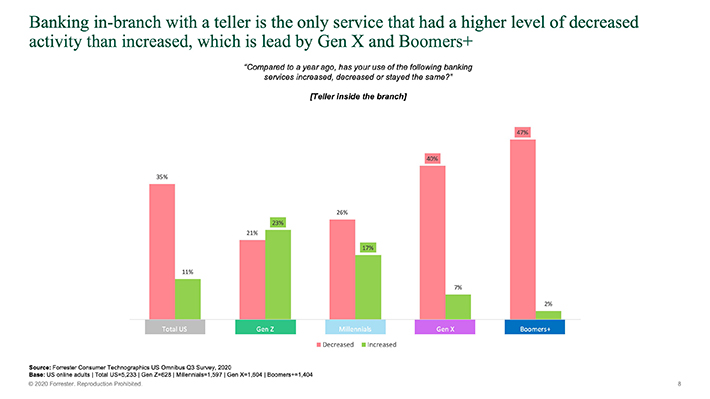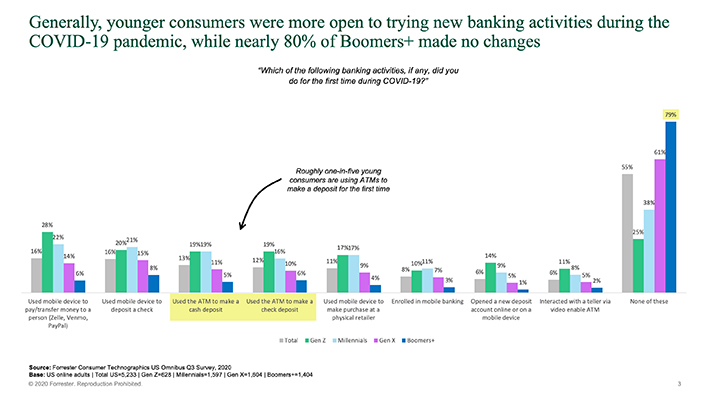 There was a 16% increase in both the use of mobile devices to pay/transfer money to a person, using apps such as Zelle® or Venmo, and to deposit a check. While Gen Z and Millennials drove these increases, the other generations, which are much more resistant to change, increased their mobile and web activity as well.
So, while my folks are taking baby steps toward being less intimidated by the convenient self-service banking world, data may suggest they are in the demographic that will go back to the traditional banking model after the pandemic. Gen Z and Millennials, on the other hand, may be the more permanent self-service converts. Regardless, it's likely banking during COVID-19 may result in branches never again experiencing pre-pandemic volumes. Only time will tell.
Where Do We Go From Here?
The financial services industry must constantly evolve and think differently to best meet the evolving needs of consumers. Here are the four takeaways to consider as you navigate this ever-changing environment and plan your next steps:
1.
Follow the numbers.
If the pandemic has taught us anything, it is that all channel strategy initiatives need to be driven by the quantitative evidence. This is not a time to make changes for the sake of it. Let data drive your decisions.
2.
Take your customers' temperature (figuratively).
Don't assume your members or customers prefer to interact in the same ways everybody else does. A few key questions can go a long way to better understanding what is important to your customers and what their expectations are for how they use banking channels.
3.
Lean on your partners.
Vendors can be a tremendous resource for industry perspective. Decision-making without any outside feedback can be an echo chamber of a limited set of options. Engage them in your plans to help you think strategically and make cost-effective decisions that will only improve your FI's efficiencies and customer experience.
4.
Consider the long view.
This isn't our first crisis, and it won't be our last. Rash decisions that are driven by short-term panic can be disastrous and costly. And on the flip side, it may take a while to realize the ROI of making an investment in new technology or self-service options—but it may be well worth the wait.
Self-service options were already experiencing steady growth in many parts of the world, but the pandemic has accelerated their adoption, particularly with younger consumers. How FIs support their members or customers through these changes and invest in service options will determine the sustainability and success of their organizations well into the future.
Want to talk more about your self-service strategy?
Visit DieboldNixdorf.com/AdvisoryServices
to schedule a consultation.