Last week, I was listening to a great podcast by McKinsey about the difference between consumer generations and how this impacts retail today. Hearing the analyst speak, I learned several things:

Weird as it may sound being digital natives, Generation Z actually likes brick-and-mortar stores more than the generation before them (note: Gen Z comprises people born between 1996 and 2010, millennials between 1980 and 1995). Being connected all the time, members of Gen Z are basically always shopping, across any format and channel, on any device. Their purchasing decisions are heavily influenced by social media. Especially the older members of Gen Z turn to social media and online sources to educate themselves or get inspired, and 65% of them do so frequently.

According to the podcast, for Gen Z, shopping is a holistic, omnichannel experience: "They want to shop across both different types of channels all the time. So, they might go online, look at something there, then decide they want to go to the store for fun, only to enjoy the experience in real life (…)."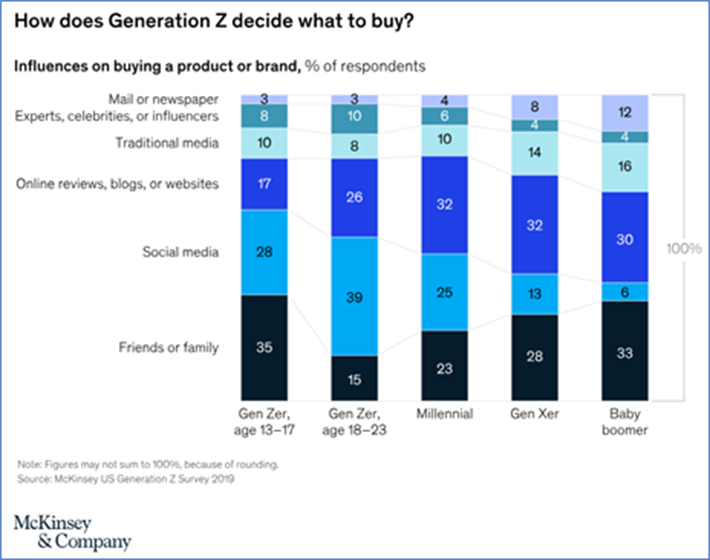 Moreover, Gen Z cares a lot about sustainability: "They want to breathe new life into what corporate responsibility looks like." And brands have to be serious about this, not just greenwashing. The values a retailer claims to support have to be authentic, because if Gen Z discovers anything inconsistent between your brand story and real-life actions as a retailer, it's going to be exposed immediately and replicated via social media.

Unleash your creativity
Even though Gen Z is not the wealthiest group of buyers, they are influential to older generations. Millennials, Gen X and baby boomers listen to their Gen Z relatives and friends when it comes to (latest) technology, lifestyle, entertainment, sustainable retail, and even food purchases. Gen Z is the front-runner when it comes to new purchases, new experiences, and new types of journeys. And, they are the runner-up generation with more spending power once they have landed their first real job.

As said, the "Gen Z type of shopping" embraces a holistic experience, and typically touches on brick-and-mortar, on e-commerce using a laptop, and on social media on a mobile device. It is based on a complex multi-touchpoint journey with several back-and-forths that requires a lot of marketing creativity as well as technological agility to capture and retain shoppers' interest.

This means retailers have to build appealing omni-channel journeys using a range of digital and physical channels. Journey flexibility is important. The products they buy should emphasize their uniqueness, but the same goes for the stores and for each of the online channels. Product, channel, touchpoints, interactions – these together should form the holistic-yet-unique shopping experience.

So then, how to operationalize this creativity? Basically, it's about getting the right marketing people and the right technology in place. Marketing people know their target audience and can create compelling omni-channel journeys and different interactions per touchpoint to keep consumers engaged. Technology is there to support the proper execution of these shopping journeys. Business and IT teams at retailers need to work closely together to deliver flexible journeys in a smooth, repeatable, and scalable way. Key is to align around the customer and adapt a journey-driven approach by taking an end-to-end customer perspective.

Accelerate your business by getting the right technology in place
Let's take a deep dive into the technology topic. According to a McKinsey article, "The tech transformation imperative in retail," retailers need to rethink and adapt their technology architecture and operating model to keep pace with changes in customer needs (like for Gen Zers) and competitive playing field. What does this mean?
Retailers should focus on several key aspects when adapting their store technology:
Omnichannel integration: Enable a unique and consistent experience across today's and tomorrow's channels. The best way to do this is using a headless commerce architecture, which separates the customer-facing front end from the business logic including virtual shopping baskets, wish lists, and payments, running in the back.
Data: De-fragment data across systems using a cloud-based, unified data repository. Plus, data models need to be standardized to allow reuse in journeys, and to build meaningful analytics and operational dashboards.
Modernization: Transition from monolithic business applications to a modular and scalable cloud platform that supports the execution of creative customer journeys. Leveraging an API-first approach and microservices technology, both journeys and business applications can be adapted more flexibly and with lower risk.
Continuous deployment: Automate the software delivery itself by using fast & frequent updates based on an agile CI/CD approach. This way, you can introduce new functionalities relatively quickly as compared to a risky 'big-bang' roll-out.
As-a-service: Scale the use of the platform with the growth of your business. Using a fully operated, cloud-native retail platform that is offered as-a-service, you will have maximum flexibility to trade CAPEX for OPEX and scale up or scale down the IT investments in line with your business needs.
Summarizing: the execution of shopping journeys is largely dependent on the technology platform used by the retailer. Incorporating above aspects in your retail technology philosophy allow you to unleash your creativity when it comes to offering new types of journeys, channels, and touchpoints. It will also accelerate your business growth by easier integrations and flexible adaptation, while keeping an eye on the operational side and costs as well.

To close off with a quote from McKinsey: "Next-generation retail architecture is fully omnichannel, powered by data, and highly modular." And well, this is, in a nutshell, exactly what Vynamic® Retail Platform offers!