At the time of writing, we're still in the midst of the pandemic in some countries. Yet, in other countries there are some positive indicators that the peak is over. After months of uncertainty and loss of revenue, many retailers are now allowed to gradually re-open their stores and start doing business again 'the normal way'. Or are they?
Online-to-Offline (O2O)

What exactly is 'the normal way' these days? It is still too early for a full recap of the impact of the pandemic on retail, yet it is safe to say the past 18 months have forced retailers to rethink their 'normal' (i.e. pre-pandemic) way of doing business. To curb the lack of in-store visits, retailers started investing in web shops and mobile apps to stay connected with consumers, offering curbside (BOPAC) and in-store pick-up (BOPIS) services for pre-ordered goods, aligning online and offline experiences better, facilitating overnight home deliveries and expanding assortment with all kinds of 'to-go' offerings. These new services have become immensely popular, giving consumers more control to handle their own affairs as much as they want. For example, according to
BusinessWire
, 85% of shoppers have increased their curbside pick-up orders since early 2020. Curbside pick-ups and other O2O services are much more convenient for consumers—and more efficient for retailers.
The New Normal
Retailers are considering whether they want to continue these consumer-driven services as part of 'the new normal'—and if so, which services they'll keep and which they'll say goodbye to. This includes both O2O and in-store services. One of the in-store services that has emerged as a definitive "keeper" is self-checkout (SCO). Self-checkout reduces queuing time, eliminates direct interactions with cashiers and speeds up the transaction itself.
According to a
McKinsey study
, 79% of US retail customers intend to continue or increase their use of SCO after COVID-19. Another
recent study
(May 2021) among Canadian grocery shoppers found that SCOs are almost as popular as cashiers now, with respectively 60% and 61% mentioned as a checkout method used.
SCO perfectly fits with retailers' existing plans of giving consumers more control of their shopping journeys. It also fits well with better alignment between online and offline strategies, and coincides with analyses made about store locations, square meters and floor plans. SCO is a key piece of this puzzle, as it helps to improve convenience for consumers and increase efficiency levels for retailers while reducing the average floor space needed per checkout station.
More Control for Consumers
With the power balance between consumers and retailers shifting in favor of the consumer, consumers demand more control. However, they don't just want to control their shopping journey, they also want autonomy over how they interact with store technology itself. Some prefer to self-scan and bag items in the checkout area, others prefer to self-scan items using a handheld scanner while actually going through the store, whereas another group prefers to use their own smartphone to scan and pay. The latter group in particular may be hesitant to touch store devices because they prefer as little physical contact as possible.
For this group, a new smart technology is available: screen mirroring. Screen mirroring allows the shopper to operate the SCO device entirely with a smartphone. After scanning a barcode displayed on the SCO device, the smartphone screen mirrors the check-out screen. Then, the consumer can operate the entire checkout and payment process with a smartphone. This keeps consumer confidence high. An additional benefit is that screen mirroring enables consumers with physical limitations to enjoy a more convenient checkout experience.
Cleanliness Promotes Adoption of Self-Checkout
These 'no touch' checkout concepts increase consumer confidence when interacting with store devices. Many consumers hesitate to touch store devices because of health concerns. In a
recent study
, 82% of consumers indicated they would prefer touchless store technologies as they're more hygienic.
Also according to McKinsey, US consumers have changed their behavior in response to hygiene concerns. Technologies that enhance hygiene are on the rise, and there is strong intent to continue contactless activities across the United States. Another study, carried out by
Board of Innovation
, points in the same direction. This study shows that the pandemic will have a long-term impact on how people perceive social distancing and hygiene.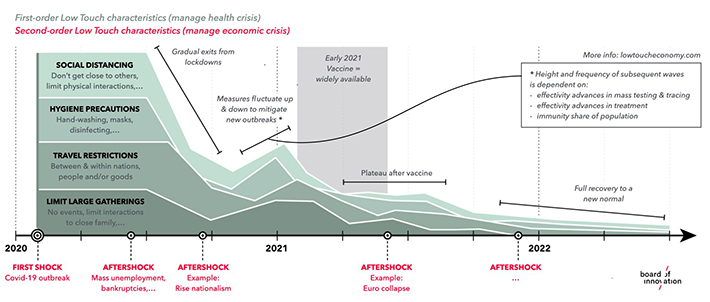 In the post-COVID retail environment, "low touch" has evolved into "no touch"—and new technology is available to ensure you can meet those emerging demands. Consumers are in the driver's seat of the buying experience: they not only want to control the shopping trip, they also want to take charge of how they navigate self-checkout devices. With
smart control technologies such as screen mirroring
, entirely touchless self-service processes are made possible, which lets you surprise and delight your customers with an experience that exceeds their expectations!