The COVID-19 pandemic has dramatically changed the world as we knew it. Unfortunately, many retailers learned that the hard way. Because of lock-downs, consumers could not (or would not) leave their homes to go shopping, experience new products, spend money and enjoy themselves.
Retailers frantically looked for alternatives to stay connected with consumers and continue to offer their services. As such, COVID-19 meant a clear boost for e-commerce—including home delivery and click-and-collect services—due to the perceived safety of avoiding stores. In many markets, retailers were forced to temporarily sell only online. And in the stores that remained open, or opened again after the lockdown was lifted, new 'shopping rules' were introduced with regards to hygiene and social distancing.
No one could have predicted a situation of lock-downs on a global scale, impacting billions of people in their daily lives. Yet, it raises the question: how we can anticipate these type of events? How we can formulate a strategy in the face of uncertainty? Or, as Harvard Business Review put it,
"How can we learn from the future?"
Consumer Behavior is Changing
Just to be clear: it is not just the pandemic that makes this question so relevant; changes in consumer behavior were set in motion years ago. Consumer behavior is changing and has been changing, and existing store concepts are being turned upside-down. The overall pace of consumption has gone up dramatically, and the consumer experience is now more than ever a holistic one that can either start at home or on-the-go, and typically involves a mixture of online, mobile and offline (in-store) touchpoints and interactions. Our Grocery Shopping Consumer Survey, carried out by Nielsen in December 2019 confirmed that consumers are, more than ever,
blending channels during their shopping journeys.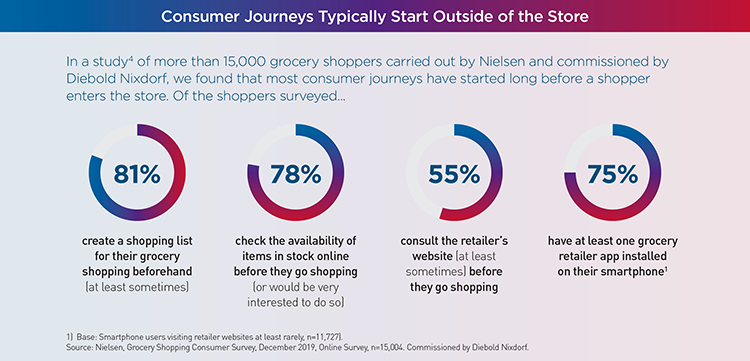 It is clear: the separation between channels is disappearing, with online and offline (O2O) channels blending further. Connected experiences are the new norm, and consumers routinely check promotions and stock levels via apps on their smartphones while shopping in store. Consumers are changing their behavior when it comes to checkout and payment as well, with a much higher adoption of self-service journeys. Self-service is not only a means to enable and support 'social distancing' inside stores by minimizing the number of consumer-to-staff interactions; it also
speeds up the checkout process, reduces queues, increases loyalty and improves overall consumer experience
. It's therefore no surprise to see self-service concepts quickly gaining ground in retail stores across various verticals.
Openness: a Fundamental Choice
The 'rules,' or consumer patterns, are changing faster than most retailers can react, and COVID-19 has expedited these changes in consumer behavior. Industry analysts like Forrester
predict
retail leaders need to be more agile, i.e. have the ability "to adapt and rapidly exploit opportunities big and small as soon as they arise."
To be on par with changing consumer behaviors, retailers must be fast and extremely flexible. Introducing new shopping concepts, supporting new types of consumer journeys, and offering new services and new technologies to enhance consumer journeys and reduce 'friction' are key—while time-to-market is decreasing fast. As a retailer, you must make a fundamental choice whether you want to keep up with ever-changing consumer preferences—or not.
At Diebold Nixdorf, we believe this choice to keep up with consumer demands also implies a choice to be open: open in working with multiple vendors, open in your IT infrastructure, open in your business processes. Openness will be the guiding principle on top of which you can leverage and extend new services to consumers in the fastest possible way.
Coming back to the questions I asked at the beginning of this article: yes, it will certainly be a challenge to 'learn from the future' and to formulate a strategy that anticipates future changes. I am confident that with a strategy based on Storevolution and openness, which allows you to 'plug in' innovations as they occur, you will be ready to offer the best mix of online and in-store services to facilitate frictionless consumer journeys today and tomorrow. Our latest guide takes a deep dive into Openness—
download it today!