I am of the age where I still remember
the classic holiday TV advertisement
that showed a son coming home in the snow to surprise his family for the holidays—arriving early in the morning, greeting his little sister and brewing a pot so his family could share a cup of Folgers® coffee.
Fast-forward 30 years and that feel-good experience is now opening your favorite coffee shop app, selecting your specialty blend in the just-perfect size and scheduling the time you'll pick it up. Having a coffee has evolved from waking up early to turn on the pot to on demand freshly roasted specialty beans being ground, perfected via a high-end expresso machine, and topped with steamed frothy cream. The whole process—from entering the order in the app to driving off with your fresh coffee—could be faster than setting the brew cycle on your own pot, depending on how many customers are in front of you.
This new "instant coffee" phenomenon revolutionized the entire retail industry, especially on the payments side. Notice in the example above—not once did I mention stopping to pay for your freshly brewed coffee. It's because the payment is embedded in the process, it's part of the order; it's what helps make the journey truly seamless.
The consumer is happy. They have a mobile app where a pre-paid amount (say $100) is already loaded through a one-time purchase. And depending on the store, when using the app, loyalty points are added every time an order is made, so additional credits accumulate. To the consumer, that $100 purchase results in approximately 15 tall mocha lattes. Brew, sip, repeat.
The merchant is also happy. They get paid in advance of producing all that coffee. And depending on the frequency of the consumer, they could sit on these funds for a few days or even weeks, although more than likely, the consumer is re-upping their app regularly. To the merchant, giving up a few loyalty points and paying interchange fees for the transaction (of the pre-paid amount) is part of doing business.
But are the banks and network processers happy? So far, many seem to find these new mobile apps (wallets) a bit inconvenient. Granted, if consumers are using a digital app, then they're still getting a piece of the action, just not at the volumes they would like. When the consumer uses their credit card or debit card to pay for their daily coffee fix, the bank and the network get a fee (although minimal per transaction) for their part in the process. The real worry happens when a direct relationship exists between the retailer and the consumer—they're bypassing the traditional process, and affecting banks' and processors' operations, profitability and even relevancy in the long run. A reality that may not be too far away, especially as real-time payments increase and
FedNow
SM
is around the corner
As a supplier for banks, this is where we can help keep them in the game. As instant payments, loyalty cards and other alternative methods gain popularity, we can help add the ability to process those payments types. Most legacy payment systems were meant to handle just one payment type at a time, using the same linear process. Our next generation
VynamicTM Payments
platform is designed using modern technology to handle different rules for different payment types on a single payments platform. It allows gradual modernization, whether it be one service or a foundation to eventually replacement a legacy platform.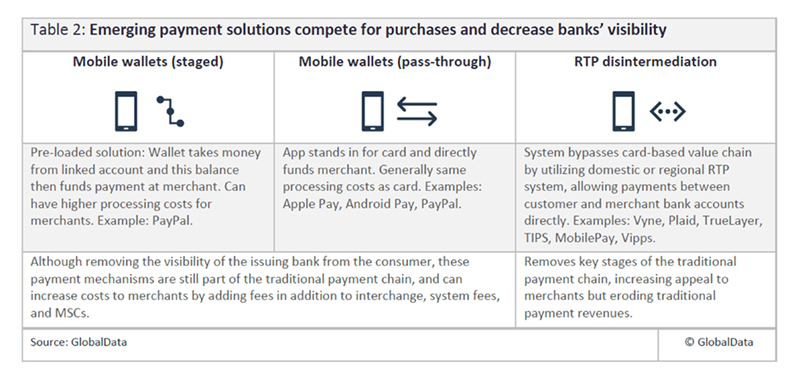 Is your organization ready for the innovations in payments? Let's discuss how we can help you identify new opportunities to leverage this quickly evolving space.