The market for electric vehicles (EVs) is on the brink of shifting from early adopters to an early majority of more pragmatic consumers.
In Europe, between 150,000 and 200,000 new EVs are registered each month, says analyst firm DA Davidson, and, as a result, the demand for public EV charging services is growing rapidly.
The growth of EVs will intensify pressure on retailers and others to expand the public charging infrastructure, according to Boston Consulting Group.
Of the projected 150 to 200 million charging points in place by 2030, only around 15% will be public. High time for retailers to take a closer look at what it takes to offer public charging services themselves.
Rethinking business models
Offering EV charging and becoming a so-called charge point operator (CPO) can be very lucrative to retailers.
"Next to selling electricity and 'earning' carbon credits or CO2 certificates, retailers can accrue additional revenues by combining charging with other commercial services while taking advantage of the long dwelling times of customers charging their cars in front of their stores," says Robert Krause, head of EV charging services at Diebold Nixdorf.
Typically, people spend 20 to 30 minutes charging their electric cars. To ensure this is not "time wasted," displaying in-store offers to visitors directly via the EV charger's screen can help drive in-store traffic.
"If retailers are able to get drivers out of their car and into their convenience stores, EV charging will for sure increase the average basket size"
Personalized incentives for customers who are already taking part in your loyalty program can also be shown.
The challenge is how to combine charging with shopping in a smart way. Retailers should rethink their current business model and develop new, integrated customer journeys that not only bring in extra revenues but also increase customer loyalty. If they are able to get drivers out of their car and into their convenience stores, EV charging will for sure increase the average basket size.
Reliability as a competitive differentiator
To keep customers coming back, it is critical that charging stations are working properly at all times. Nothing is more disappointing than pulling up your EV with a nearly empty battery only to find out the charger is out of order.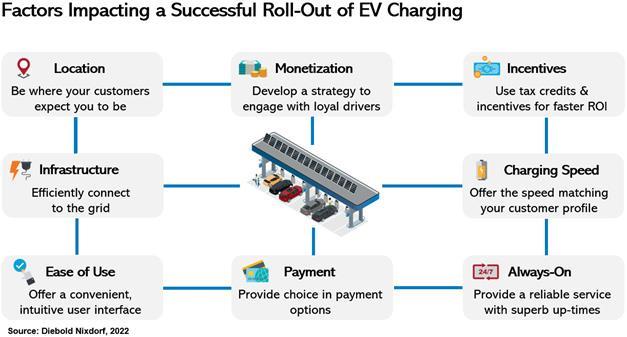 Always-on is one of the eight factors we've identified for a successful rollout of EV charging. Drivers prefer brands that offer dependable charging services. I'm convinced the real competitive difference will soon become reliability of service.
High charger uptimes require sophisticated monitoring of charger equipment, smart spare parts logistics and a fine-mazed service infrastructure so that chargers can be repaired within a few hours instead of in a few days.
Besides reliability, another factor for retailers to consider before jumping on the bandwagon is store location. Charging stations need to be easily accessible in order to attract and keep drivers. Retailers situated along main roads or in suburban shopping centers with car parks have an advantage over those who are not.
But also charging speed, flexibility in payment options, ease of use and being eligible for government incentive programs are important considerations.
EVs are certainly driving change in the motor market and if retailers consider ways to benefit from this, then they too could be on the road to future success.
Visit
dieboldnixdorf.com/evc
to learn more about EV charging.
First appeared in Retail Week 12/22/22
.