The COVID-19 pandemic is driving many restrictions and limitations on the number of people that are allowed to gather in one place at supermarkets, shops, pharmacies, and other public spaces. These measures are designed to keep everyone safe and ensure people have enough room to distance themselves from others nearby.
In response, many retailers have taken action by assigning a staff member to new, safety-related tasks. During opening hours, employees have been stationed at store entrances, counting people as they enter or leave the store, and if needed, asking people to wait before they may enter in case the store has reached its limit. This practice, however, has led to unsatisfying results—counts may be off, and employees feel they're being forced to boss their customers around, rather than helping them. And from a customer perspective, it can be an unpleasant experience for consumers when there is always staff watching when they want to enter a store.
Having accurate occupancy data is a must. But how can retailers solve the problem on short notice and with almost 100% accuracy? There are simple and non-intrusive solutions on the market that do not require staff members to watch the entrance at all times. Real-time occupancy counting and monitoring technologies are available that are reliable and can be installed quickly.
People-counting solutions free your staff to assist customers.
Highly accurate people counting devices count and register each customer as they enter and leave the store automatically. This delivers live occupancy data with visual warnings and alerts for both customers (e.g. by traffic lights) and store staff (e.g. on a smart device) when limits are approached or exceeded.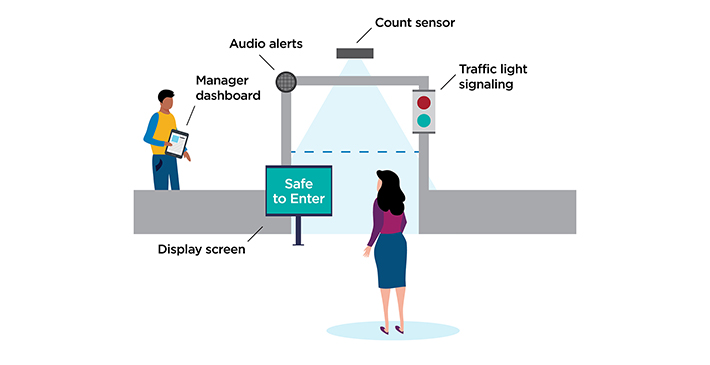 These automated solutions give retailers control over their entrances and exits, and typically feature a proven accuracy in excess of 99.5%. Real-time technology maximizes customer throughput and guarantees the highest possible security, without putting the burden and responsibility on the shoulders of store staff. What's more, staff can then be redeployed to other tasks that contribute more to the consumer experience, rather than 'policing' consumers as they enter or leave the store.
People-counting solutions have been successfully piloted and implemented already globally.
Physical retail must harness new tools that drive meaningful insights into consumer behavior.
Consumer traffic regulations and "social distancing" according to COVID-19 security measures might be only the first small step on a much broader range of possibilities coming with sensor-based store surveillance. Retailers that don't tackle the problem of consumer occupancy data today may well find they've missed a big opportunity to get out in front of the competition.
Not only at the store entrance but also in-store, the control of consumer traffic, and the store paths they take, can help retailers understand their consumers' behaviour better and enable them to enhance the customer experience, as well as optimize other aspects such as staff scheduling, store layout and product placement.
Many retailers already combine customer count data with transaction data to measure their stores' conversion rate. But this is only one measure of performance.
Occupancy of a store is driven not just by footfall in to the store, but also by the duration of each customer's journey within the store (the customer dwell time). That number may differ during the day and on different days in the week. So it is essential to optimize store services and meet expectations of your consumers with regards to opening hours and (extra) staff availability when they require it most.
Furthermore, using surveillance technologies not only at the entrance but also inside the stores allows retailers to really understand how their customers behave in different areas of the store. These insights can improve space utilisation and staff assignment dramatically.
Combining advanced camera surveillance solutions with artificial intelligence (AI) enables a range of additional values and insights that are even deeper and broader, from customer age verification and digital in-store advertising, to security alerts that flag customers who spend an unusually long time in one area within the store, or a person entering the store without a facemask. At the checkout zone, controlled customer numbers help to optimize cashier allocation and self-checkout capacities.
Is your store network prepared for the changing nature of the physical retail experience? Our
Retail Services
teams work with retailers around the world to ensure best-in-class customer experiences. We'll help you navigate the "new normal" in retail for short- and long-term success.
Let's start a conversation today.