"Instant payments." It's a term that's been talked about for years, but in practice (if you exclude the use of cash) it's less than a decade old. So, what does it really mean? And why is it so important in today's payments space?
In all honesty, cash is really the only "instant" payment. When you pay someone in cash, once they have the cash in hand (regardless of whether they delivered the product/service) they can take the money and run! In Europe,
cash still accounts for 78% of all transactions
at the point of sale (POS), which is surprising especially in this era of digital payments and mobile wallets.
Legacy payments—credit, debit and even checks—have historically been a "float" game, with checks being the least instant, taking up to 10 business days to clear (and that's if the receiver deposits it right away).
With credit card payments, although the merchant gets their payment right away (less fees), the payer is granted a billing cycle to pay either in-full or a minimum amount. However, if the consumer is only paying the minimum, interest must be paid to the issuing bank.
Debit has been the closest to instant payments, whereas funds are directly deducted from the payer's account; however, because it uses the card networks, funds are settled with fees deducted usually within 24 hours.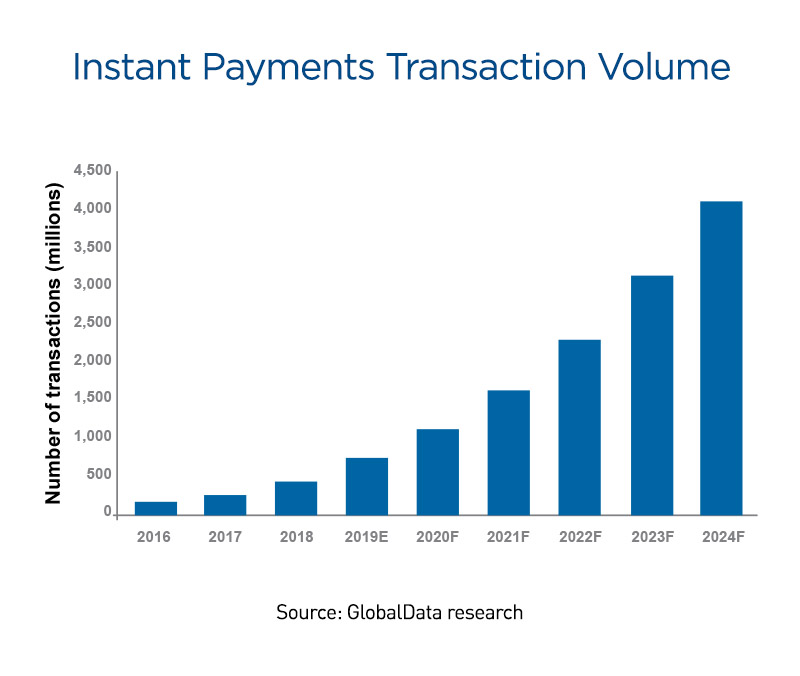 Issue in Seconds, 24/7, 365
True "Instant Payments", as defined by SEPA (Single Euro Payments Area), states the transfer of funds is made in near-real-time, with the money credited to the beneficiary's account within seconds. Instant payments can be issued and received 24 hours a day, regardless of the day. The maximum amount of the instant SEPA transfer is €100,000, and it is irrevocable.
One of most significant characteristics is that it is independent of clearing mechanisms and interbank settlement, meaning it's an immediate account-to-account transfer; and for consumers (European or not) of the banks that adhere to the SCT format (SEPA Instant Credit Transfer), they can make a payment directly from their bank account without having an issued card. Thus, it makes the reliance on—and relevancy of—the international card networks null.
Does this mean the end of credit cards as we know it? Not according to EPI Interim Company CEO Martina Weimert. The EPI (European Payments Initiative) was launched by a group of European banks, credit institutions and third-party acquirers to create a unified payment solution that leverages SCT Inst.
Speaking with The Paypers recently
, she noted that she believes there will be a migration based on a new platform with broader solutions because the domestic card schemes are limited, and they don't come with instant payment solutions.
Fintechs Lead Instant Payments
Globally, various 3rd party applications are driving instant payments to become mainstream, especially for P2P. Working in partnership with financial institutions, fintechs such as PayLip (FR) Bizum (ESP), iDEAL (NL), Blik (POL), Zelle (US), Osko (AU), and Faster Payments (UK) have built systems that enable consumers to send money to each other if they are using the same providers; however, it often limits transactions on other networks.
Other P2P applications like Venmo, PayPal and Joompay (Europe) also allow users to send one another money from their mobile device, but these are most often linked to a bank card (credit or debit). As such, the money is usually not available right away. Transaction notifications are sent right away, but the money itself may take one to three business days to arrive in the linked account if you choose to transfer it out of the app. Some providers are faster, and some also offer instant transfers for a fee.
Many consumers generally don't understand the difference in payment velocity, but the current climate of on-demand "everything" has magnified the flaws in our legacy payments systems. These systems can't handle the consumer demand for faster, do-it now capability because the technology is designed to process in batches, normally running at off hours versus transferring instantly 24/7/365. On the B2B side, utilities, manufacturing, healthcare, higher education and hospitality sectors, in addition to retail, are starting to see how convenient instant payments can be as opposed to spending tedious hours sorting the mail for checks and manually entering them into the system. Direct debit transfers, where a retailer withdraws funds directly from a consumer's bank account on a specified date after the purchase, are most popular in Europe where they earned 4% of share and were
used for 1.2% of global e-commerce payments in 2020
.
Play to Win
The question remains, who wins in the instant payments race? Is it worth the risk and resources to modernize now versus be a follower?
From a technology perspective, faster or instant payments are revolutionizing a banking industry that has been stuck in legacy batch mode/clearing house queues for decades. But is the real value of instant payments the way it can change operating models not only for FIs, but for their clients? Will the gain in efficiencies and the improvements in cash flow increase overall competitiveness, allowing FIs to re-invest their gains and provide new, advanced services for both consumers and businesses? Instant payments, and a modernized payments system, can be an opportunity to acquire consumers looking for a more leading-edge experience, small-business merchants whose current electronic payment options are limited or costly, and corporations that can use it to digitize their supply chain.
Is your organization ready for the advantages instant payments has to offer? Let's discuss how we can help you modernize your payments system to leverage this quickly evolving space.