When you think about traditional customer loyalty in retail, the points-for-purchase rewards model may pop into your mind. As customers, we generally think to ourselves, "How many points do I get from purchasing this item, and what can I do with my points?" Most retailers follow the same line of thought and limit themselves to rational or transactional loyalty as opposed to emotional loyalty. The focus is much more on tangible benefits, neglecting higher-value emotional and interactive initiatives. In fact, Edge by Ascential found that when it comes to fostering emotional and interactive connections with customers, even the industry's leading retailers are struggling.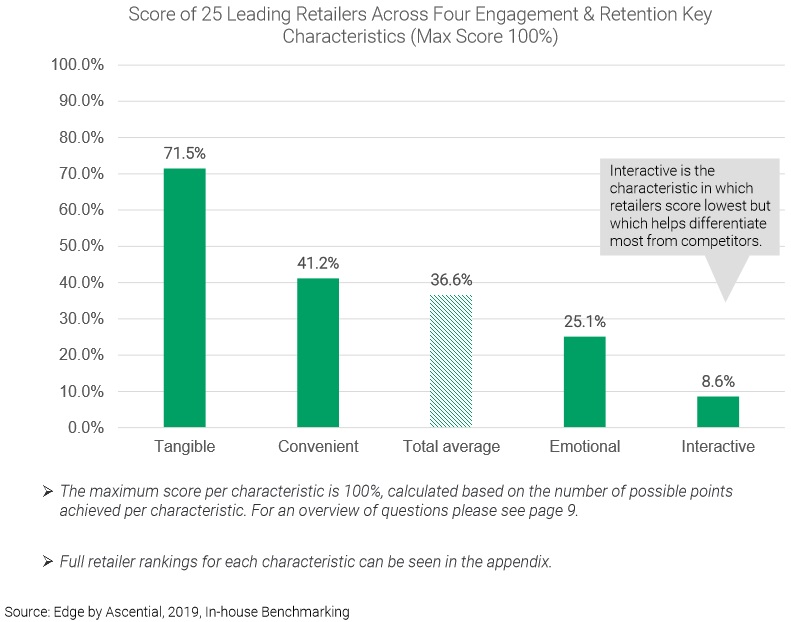 Edge found that most major retailers today still focus on transactional aspects like assortment or vouchers, as well as convenience aspects, such as more frictionless shopping and payment.
This approach, though, overlooks those who aren't loyal for the reason of logical transactions, but rather because of the emotional ties consumers have to the brand. It misses the mark, says Forrester Research analyst Emily Collins. "Strategies that rely purely on loyalty programs to offer points and discounts miss an opportunity to drive deeper engagement through emotional loyalty," she writes in a recent executive overview.
This is especially true for retailers active in the Fuel & Convenience domain. As the focus is shifting from "fuel-plus" to "plus-fuel," the c-store is gaining more importance – and with that, different types of loyalty programs that go above and beyond "loyalty points per gallon of fuel" are needed. Traditional points-based loyalty programs need to be overhauled, with experiential rewards, exclusive events and genuinely personalized and relevant promotions for customers, in order to become more customer-centric. Brands need to lay out more emotional and interactive benefits to genuinely engage consumers, gain their trust and retain them as customers – areas in which a lot of fuel retailers lag behind today.
Why "Emotional Loyalty" Matters
In order to cope up with the transformation the Fuel & Convenience industry is undergoing, loyalty and retention become much more significant. The Forrester overview I mentioned above highlights the need for Emotional Loyalty, as it's a key driver of retention, enrichment and advocacy. Emotional loyalty entails a deeper level of commitment to the brand because the emotional tie goes beyond economic incentives. The key features of emotional loyalty involve engaging with consumers through rewards that surprise and delight, running exclusive loyalty programs, and utilizing data to create highly personalized offerings. A deep connection is achieved as every action, communication and engagement a customer receives from a brand makes them feel valued.
Ways to Build Emotional Loyalty
If your organization is struggling with optimizing or overhauling your rewards program, there are several options to explore:
Focus on understanding your customers' specific desires.
Retailers should see the relatively low score for emotional loyalty as an opportunity to differentiate themselves from the competition going forward. What do YOUR customers want? Once you've nailed down what they're looking for, engage with your suppliers to create exclusive initiatives, and build more personal and direct communication with consumers via online platforms or direct-to-consumer networks.
Prioritize experiences over value-based rewards.
Even though fuel retailers recognize the relative benefits a loyalty program offers, they still prefer to offer value-based rewards over entertainment or experiential benefits such as rewarding customers with experiences, event tickets and so on. According to the same EDGE report, "while value-based rewards provide money-saving benefits, more creative approaches are required to ensure benefits evolve in line with increasing consumer demand for emotional experiences."
Emphasize personalized offerings.
Personalization refers to going beyond mass segmentation to create carefully-tailored and relevant shopping experiences, promotions or rewards. Shoppers are increasingly demanding a more personal engagement from retailers, and successful personalization can certainly drive conversions and repeat purchasing through relevant promotions and offers. As a consequence, a more personalized approach including exclusive and interactive rewards can lead to emotional relationships that transcend transactional relationships.
Engage with customers across the whole ecosystem.
Promotions should not be limited to just one part of the retailers' ecosystem. For example, convenience stores that also operate forecourts should consider allowing points accumulated at the pump to be used in any of the brand's convenience stores. This could also be extended to the mobile channel, where items ordered online can be partly paid for with loyalty points collected in the store or at the forecourt.
In a nutshell, consumers value experiences more highly than the past. This indicates that more share-of-wallet will shift away from products or transactional benefits, to experiences that build emotional connections with the shoppers. More retailers will invest in the experiential aspect of their stores in an attempt to differentiate, offering services, inspiration and product education. Further adding to this, the Convenience Channel Report 2019 indicates a significant shift is also happening on the c-store front, where the focus is to invest in order to aid fast and frictionless shopping missions, while at the same time offer a more experiential retail experience in a bid to position the c-store as more of a social and community hub. Isn't it about time to think beyond the transaction, and engage your c-store shoppers in ways that enhance repeat purchasing and customer retention?
To learn more about delivering more personalized, efficient and integrated self-checkout solutions, check out our VynamicTM FCx Solutions. Interested in discussing how our solutions could drive the future of loyalty in your store? Let's start a conversation!